Date - Time:
19.07.23 - 10.08.23 - 13:00 - 15:00 Uhr
Seminar venue: Macugnaga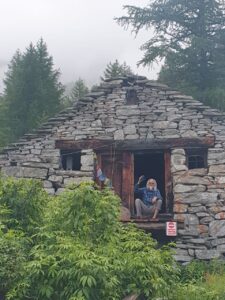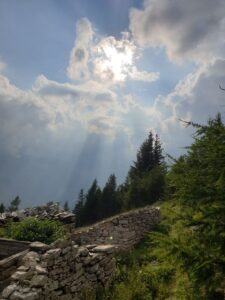 Unser liebster VisionQuest-Platz, die Alpe Meccia/Macugnaga, liegt auf 1.800 m Höhe, wie auf  einem "Balkon"gegenüber der gigantischen Berg-Göttin "La Rosa" (Monte Rosa 4670 m), dort haben wir 2 alte Stein-Alphütten gepachtet mit viel Platz rundherum für unsere Zelte, die Jurte für die Gruppenarbeit und viel weites wildes Land mit Flüssen/Wasserfällen  & atemberaubender Sicht.
English:Our favorite VisionQuest place, the Alpe Meccia/Macugnaga, is located at 1.800 m above sea level, as if on a "balcony" opposite the gigantic mountain goddess "La Rosa" (Monte Rosa, 4670 m), there we have leased 2 old stone alpine huts with lots of space all around for our tents, the yurt for group work and lots of wide wild land with rivers/waterfalls & breathtaking views.
International VisionQuest for Young People 2023
`Maturity Challenge Wilderness`
… a Ritual of Quest: Dicover Your Life`s Purpose…
Realize, who you really are ..finding a dream worth living.

Since ancient times it has served humans to mark turning points in life. As a rite of passage on the threshold to adulthood, Vision Quest in wild Nature has a firm place in many cultures.
Read more…
read more: Terra instead of Terror.pdf 2023
Italian Flyer: CCV Jugend VQ 23 ital pr
Seminar costs for 21 days of a special kind: starting from 980, – € ( self-assessment – detailed info will follow after your registration)
Vegetarian full board and infrastructure costs: ca 420,- € +++ Donation for infrastructure Alpe Meccia
Quest-Guides: Helen & Shanti & Enrico Scheider, Carlo Ceria – the CreaVista Team & assistants…