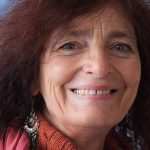 I stand by my life as a mature woman full of enthusiasm for the fact that we humans continue to develop our consciousness and our actions in order to appreciate and protect life on this wonderful earth, because we can only protect what we know and love!
I love a life close to nature in community with all living beings, in careful handling of the resources of the earth. In respect and esteem for the animals I have chosen a plant-based vegan wholefood diet, which I gladly pass on to my fellow human beings. I have the heart readiness and openness to support people in their self-healing and self-discovery process with all my possibilities and to promote their growth.
VisionQuest-Guide, trained at the School of Lost Borders (USA), occupational therapist, founder of the IAKA – Institute for Aquatic Bodywork, Huna- and LomiLomiNui-Teacher, nature-lover, mother & grandmother.
The life in a Christian scout family shaped me, night walks under the starry sky belonged just as much to it as singing and learning about plants and animals of the forest in the Sauerland …
In the company of my children, I learned through Waldorf education to be even more nature-oriented, to be embedded in natural rhythms, to connect with Mother Earth in reverence and gratitude, and to prepare natural wholesome food – connected with sowing according to the lunar calendar in my own garden. This is still an essential part of my life for me …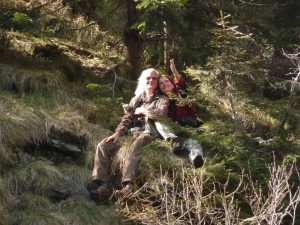 Together with Shanti E. Petschel I discovered how important initiation work is for young people. Accompanying our own children into adulthood, we gathered experience and have been offering initiation work (initiation and ritual) for teenagers and adults since 1993. Tantra and the Indian rituals, which I got to know at the Crow's and at Sunbear, have a strong influence on my work.
The discovery and discussion with HUNA and Lomi-Lomi-Nui, the shamanically influenced Hawaiian temple bodywork were very formative.
The deep encounter with body healing work in warm water (WATSU & WasserTan
zen, IAT-integrative Aquatic Therapy according to David Sawyer) as a way of intiation had a life-changing and formative effect.
I feel grateful about every heart encounter with people who accompany me on my way, I thank Sunito & Bijou, Henner, Semu Huaute, Harold, Shanti, Susan Pa'iniu, and many others … especially Steven & Meredith for my deep experiences in the "School of Lost Borders" during the VQ-Guides-Training.